Calgary's Best Car & Truck Driving School
Welcome to Derek Brown's Academy of Driving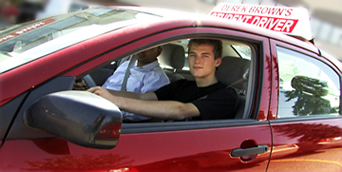 We are the premier Calgary driving school and driver education. Whatever your driver training needs, we can help. If you're concerned about the safety of your teen or yourself on the road, we can keep everyone safe by greatly reducing the risk of an accident. Skilled, informed drivers are the safest drivers. If you need lower insurance rates for your teen, completion of our classes will reduce the cost. If you want to learn to drive defensively, we have a special class just for you.
Truck Driver Training: If you need special driving skills for a new job or career as a truck driver, we offer those as well, in our Calgary truck driving school. When you're finished we will guide you in getting a truck driver position.
And our classes are competitively priced with other Calgary driving schools.
Who We Are

We are the largest and most experienced Calgary driving school and truck driving school. Derek Brown's Academy is also the most qualified Calgary truck driving school. We only use the best and fully qualified driving instructors who know how to make your class time effective and enjoyable.
We prepare you for written exams so you'll pass easily. We take the fear out of road tests by offering practice exams right before the real ones. We'll even drop you off at the registry. Read more…
Courses

We have been in the business of teaching young and new Calgary drivers since 1970. Our quality drivers education and training is based on over 40 years of experience. With our expertise and experience, you can rest assured that your young driver will get the skills to drive Calgary's busy streets.
Youth and driving can be a lethal mix without the kind of quality, experienced instruction Derek Brown's Academy provides.
Besides the basic driving courses, we also offer a brush up course, defensive driving in-classroom course, air brake class, and truck training. We are the premier Calgary truck driving school.
How will I be trained?

According to Alberta Infrastructure and Transportation, new drivers with a Class 7 Learner's permit and a Class 5 Graduated Driver's Licence are required to complete at least 15 hours of lecture and 10 hours of in-vehicle instruction. Drivers who already have a Class 5 non-GDL licence must complete at least 15 hours of classroom and a minimum of 6 hours of in-vehicle training. These hours are required
to receive a Course Completion Certificate, used for an insurance discount.
We surpass the Alberta regulations in driving and classroom instruction at a lower price than other driving schools. Read more…